Modern Handmade Jewelry For The Women Who Make it All Happen

Hi, I'm Reija Eden, a jewelry designer and mom of four; three of my own and a wonderful step son who I've had the privilege to watch grow to a wonderful adult. Thanks for stopping by to check out my handmade jewelry line and to learn a little more about me. I'm blessed to have been named one of the Momprenours of OC in 2016 by the Parenting OC magazine. I'm completely obsessed with designing jewelry and helping women look and feel their best. I want to inspire women with my jewelry designs to find their joy while they are navigating through the demands of the everyday life. Jewelry design and helping women, is what keeps me up at night after my children have gone to bed. I come from a country of strong women, Finland, where women hold high power positions in businesses and government and pursue the highest levels of education with ease. I want to inspire women here in the USA and around the world to do the same and follow their passions while taking care of their families. Us women are masters at wearing many hats and making it all happen. We are the glue that hold it all together. When I'm not with my children and family or making jewelry, you can find me emerged in a book. I'm a huge book worm and love reading everything to do with children, education, parenting, business, essential oils, holistic health etc. I'm also obsessed with beauty products. I've used hundreds if not thousands of beauty products over the years. I also own an online community called MakeupTalk which I started in 2003 with my husband's coding skills. I consider myself a life long learner. I love learning about new things and it's one of the reason I read so much all the time and I'm always looking to perfect my jewelry making skills.
I created my jewelry line in an effort to bring some fun and beauty in the everyday busy life while also having a higher purpose of making a difference. I design my jewelry for today's modern women, who hold so many roles in their daily lives and who appreciates great design and products with higher purpose. My purpose is to help you find balance and look beautiful while navigating through your busy everyday life. Being a busy mom myself I know how some days it's so hard to find the time for yourself. A fun piece of jewelry can instantly make you feel more put together and give you some extra confidence.  A pair of new earrings or a necklace can make an old outfit feel and look like new. I strive to create jewelry that is fun and easy to wear and brings a smile on your face and that extra bounce on your step when you need an extra boost of confidence. You can easily mix and match the pieces to create your own style. I also love custom orders so if you see something that you wish came in another color or metal for example, please don't hesitate to contact me. To read more in depth about why I'm so passionate about helping women to look and feel the best, you can read my blog post here.
The Beginning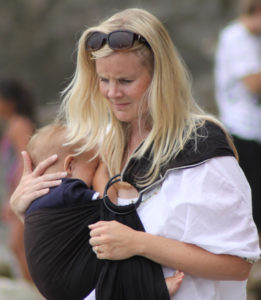 After getting laid off from my corporate job in 2008, I was in search of the next step. After attending a local Finnish women's crafting group, I fell in love with jewelry making. I completely merged myself in it, learning as much as I could by taking classes and reading industry publications.  I've always been into crafting and making things since I was a little girl so jewelry making gave me the creative outlet I desperately needed. My early memories were making Barbie clothes with my mom who is excellent as sewing. She used to make clothes for herself outside of her professional job. Both of my grandmothers would sew as well making clothing for themselves and others. I learned a lot about creating things by watching them bring a piece of fabric into life as a complete dress or a shirt. Jewelry making gave me an outlet to create things just like my mother and grandmothers used to do but just with a different medium. I'm very passionate about the art of jewelry making and I'm a member of American Craft Council and MJSA, which is an organization for jewelers with commitment to Excellence in Jewelry making.
Inspiration & Process
All jewelry is made in Huntington Beach, CA by using recycled precious metals whenever possible, gemstones, fair trade beads and vintage materials. The inspiration for the jewelry pieces come from my Scandinavian roots, modern architecture, runway fashion, gemstones, nature and color all around us. I only use the finest, quality materials from reputable jewelry and gemstone suppliers. My creative process is pretty complex. I usually fall in love with a particular stone or freshwater pearl and I start to get an idea of how I want to incorporate it into the design whether it's going to be a necklace, a bracelet or pair of earrings. I usually draw the design so that I can get back to it later to define and finalize it. Once the design is finalized, I get to work and start to make the piece of jewelry. Many times I end up changing the design as I go and a new exciting piece emerges that I hadn't thought of. I love working with sterling silver and 14K gold-filled wire because the end result is very organic.
The Purpose
My jewelry line is built around kindness, compassion, Eco-friendliness, charity work and supporting fellow small USA based businesses. Eco-friendliness is very dear to my heart due to my Scandinavian roots. I was born and raised in Finland and Finland is known for their Eco-friendliness and pure nature. I use recycled precious metals as much as possible. Every order is shipped in jewelry boxes made from recycled paper and the shipping materials are also made from recycled paper. The gift packaging and shipping materials are made here in the USA by US based small companies. The components used in the jewelry making are also mostly from US based suppliers.
Charities
Giving back is one of the core values of my jewelry line and one of the main principals for the line's existence. I donate to various women and children's charities and youth sports organizations. I was diagnosed with Crohn's disease over 20 years go and I want to help bring awareness to natural health and healing from Crohn's disease, Colitis and other IBS related diseases. I've been able to keep my disease mostly in remission by following a gluten free, paleo type diet and I want to help others suffering from gastroenterology related diseases by sharing what has worked for me. By purchasing my jewelry designs you are helping a greater cause.
Celebrities
My jewelry line has been seen at the Emmys and the Cannes Film Festival. Actresses Brianne Davis, Jennifer Blanc Biehn and Kristin Baur Van Straten from Trueblood have been spotted wearing my pieces.
I want you to feel empowered and beautiful when they wear my jewelry. I hope that every woman will enjoy wearing my jewelry as much as I enjoy creating each and every piece.
Thank you for your interest in my jewelry line. Be sure to check back often to see what's new and exciting. You never know what the next jewelry piece is like and you want to get it before it's sold out, as most of my pieces are one of a kind and limited edition. Thank you for your support! Let's make a difference together! 
– Reija
Check out the latest designs by clicking here.
Sign Up Here For Your 25% Coupon & Exclusive Updates!
Celebrities wearing Reija Eden Jewelry: